New functionality
Simple P&L table added to Launch module.
Option for setting the number of historic months used for calculating the allocation key has been prepared. Currently, it's 6 months.
Business Alerts: Set-up Business alerts various KPIs like overplanned products with limited stock/supply.
Planning Boards: New way of planning baseline, returns, costs & price reductions. It's intended to replace the baseline/other costs module by the end of 2018, however, it does not yet contain all the same functionality as current baseline module – but, a lot of new features like:

Paste/Copy data directly into/from Planning Boards from/into Excel
Superior input performance.
Easier setup of layouts.
Easier and flexible maintenance of "planning mask rules", directly on Planning Board.
Built-in P&L Insight.
We are looking forward introducing to you to this new module and open up a dialog for getting your input.
Manage Trade Terms as individual conditions. It's now possible to manage the discounts as individual lines. This gives the flexibility to manage each condition individually in a fast, easy and flexible way. This is a new option and requires redoing the conditions into the system. However, this approach is much closer to the way conditions are managed by SAP. So, it may provide some more options for you. 
NOTE:  this new option does NOT implement the "contracted allowance" in the same way as before.
FOR Denmark only: We have prepared some functionality, Automatic Loading of promotions in a format defined by retailer DS …  Coop soon to come. This is implementable on a custom basis.
Dummy products 
In the Data ribbon, there is a module for managing "Dummy products". This makes it easier to keep track on these products. When you add the dummy products please be careful to add product hierarchy in a way that it matches the set up for the planning groups and trade terms.
In the product chooser dialog, there is a new "filter" option to make it easy for choosing the dummy products.
Transition from Dummy to real products:

Promotions: By opening the dummy product you can see which promotions it's part of and replace the dummy with the real product.
Baseline: The system will allocate baseline to dummy products, only if there are no active products in the planning mask. When the real products are coming from SAP, the system during the night will reallocate the units from the dummy to the real products. The rule follows if codes match then allocates to codes, if not, then allocates to the dummy product.
Launches: the system, for now, offers no help. It must be done manually.
Improvements
Create promotions: Paste of discounts from excel (extension of current functionality with paste of forecast units)
For Demand planners: Choose date for future stored snapshots:

How to store a snapshot in advance:
Go to stored snapshots and Right click.
Choose date: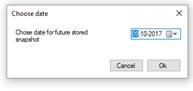 In the snapshot list, we have added a column that shows the row count of the snapshot. Historically, a few snapshots have been missed in cases when the servers were not available (servers are occasionally rebooted to install Microsoft updates) – this will show "0 ??" in the "Rows" column if this occurs.